On-Site Bathtub Reglazing in Hamilton, St. Catharines, and Brantford
You can depend on Bathtub King to refinish your worn-out looking bathtub in your home without removing the tub. This translates into a huge cost savings because we do not disturb the walls, plumbing, or floor. While we are based out of Hamilton, we also service the St. Catharines and Brantford areas. Give us a call to request an estimate or service!
Bathroom Fixture Refinishing
Bathtub King is also the solution for refinishing old antique fixtures that cannot be replaced. We reglaze claw foot tubs and antique pedestal sinks. If your bathroom fixtures need a bit of work to bring back their original charm, contact Bathtub King for on-site refinishing.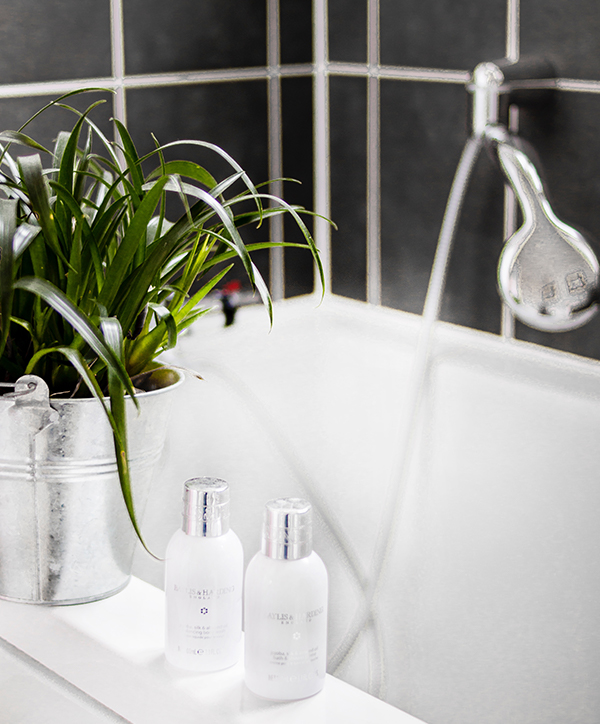 Frequently Asked Questions
Learn More About Fixture Reglazing and Refinishing
In Redecorating My Bathroom, Should I Have Bathtub King First?
Walls around the tub should be repaired or replaced, as well as any plumbing problems. Painting, wallpapering, shower doors, and carpeting should be done after. We also install and renovate.
Can't I Just Turn Off The Water to the Bathroom Instead of Fixing the Leaky Faucets Now?
No, the technician needs water to flush the chemicals down the drain. Get the leak repaired, then schedule the refinishing.
My Tub Is Not Connected. Can You Refinish It In My Yard or Garage?
No. The dirt, dust, and foreign particles in the outside air pose a problem to the fresh coating prior to the curing stage. Either connect the tub, or bring it to our showroom to be refinished in our spray booth.
Do You Change Any of the Plumbing Fixtures?
Plumbing problems (leaks, broken fixtures, etc.) must be resolved before the tub is refinished.
What Can I Do to Get the Shine Back on My Tub?
If you have attempted to clean the tub with normal household cleaners and the tub is still dull or dirty in appearance, there is probably nothing you can do to restore the shine. The original finish (glaze) has become worn leaving the pores exposed to absorb the dirt and chemical stains. Unfortunately, the more one scrubs, the worse the situation becomes. A new finish or new tub is the answer.
How Long Will the Bathtub King Finish Last?
Since everything is relative, with normal care and proper cleaning, your new Bathtub King finish will last for many years. Peeling (or flaking) seems to be the concern of most. This condition is caused by trapping gas under the glaze during the process and, if present, will occur within 30 to 90 days after refinishing. Your 4 year guarantee affords you ample protection against this unlikely possibility.
Just What Is the Glaze – Is It Real Porcelain?
No, it's not actually porcelain. It's a synthetic, which when applied, hardens to a beautiful high gloss porcelain-like luster. The Bathtub King formula is a unique process developed specifically for bathtubs and laboratory tested to meet the highest standards of product performance and quality. Our long list of satisfied customers proves that claim and guarantees your complete satisfaction.
How Long Does It Take to Refinish My Tub?
Normally, between three and four hours. All work is done in the tub area. Most of the time is spent preparing the old tub. There are some chemicals used to etch the surface, and any chips and bad areas will be filled in. All work is done the same day.
Can't You Just Do The Bottom of My Tub?
No, because in refinishing, the idea is to start and end the process outside the water area. This prevents the possibility of water seeping under the new glaze.
Will It Look Like a New Tub?
Yes.
What About My Tub Door?
Doors must be removed prior to refinishing the tub. Call us if this is a problem.
Are There Any Bad Odors from the Process?
No. If the bathroom has a window, all odors are exhausted through the window. With just the bathroom exhaust fan (no window), some slight odour may occur during the process, but it disappears in a few hours.
Do You Refinish Sinks and Toilets also?
Yes, though sinks & toilets may be more practical to replace at times.
What Special Cleaners Must I Use on My New Bathtub King Finish?
Mild cleaners are excellent. Our own proven cleaner is always recommended.
Why Isn't It Cheaper to Buy A New Tub?
Our best answer to this most frequently asked question is to respectfully suggest that you compare one or more estimates which reflect the total cost of the installation of a new tub with our price. Make sure your estimates include all plumbing costs for labour and fixtures, as well as the cost for replacing wall and floor tile damage in the removal of the old tub. Insist upon receiving a quality replacement tub – not a weekend special. If your present tub is porcelain over cast iron, it is far superior quality than the low-priced replacement tubs on the market today. Our price for an average bathtub is $499.00. We complete our work in less than one day. Therefore, in most cases, we can save you both time and money.
"Dear Dennis,
Thank you for your donation of bathtub reglazing for our Port Colborne Habitat house renovation. Your generous gift changes the lives of Niagara families in need of decent, affordable housing.
Building sustainable communities is at the heart of the Habitat mission- by making safe, decent and affordable housing a reality for families, they are empowered to break the cycle of poverty and build happier, healthier and more productive lives for themselves and the communities in which they live.
Home ownership is about more than just building equity, as it can instill a family with a renewed sense of confidence and pride.
Habitat for Humanity partner families report being happier, healthier and more financially secure after receiving their Habitat home. Many families say their children's confidence levels and grades got better as a result of their new homes, along with improved health and reduced stress. Parents have used their newly discovered sense of accomplishment to return to school, learn a new trade, or upgrade their job skills. The impact is immediate- the effects everlasting.

Thank you for your thoughtfulness and in turn helping Niagara families achieve the dream of home ownership. Your contribution to Habitat for Humanity Niagara is greatly appreciated."
– Alastair Davis (Chief Executive Officer) & Keith Gowans (Chief Operating Officer)
"Dear Dennis,
I'm writing to express my gratitude in the way your business conducted my recent bathroom re-modelling.
Everyone from Glenn (salesman), Julio (Plumber), Stan (ceramics) and John (shower door installer) worked in a very professional way.
I couldn't be more pleased with the outcome of my project. Thank you again and please include me in making future references to your product and ability. "
"Hi Gary,

As discussed today, I would like to take the opportunity to say that my new bathroom is amazing. The whole experience could not have been better.
Your visit was very informative – you listened to my thoughts and delivered exactly what I was looking for. I appreciated that you had samples with you as well as your patience with my questions and "after the fact" thoughts and changes.
The four men who came to my home – Ryan, Jeff, Lou and Cono – were all fantastic: very professional and took great pride in their work. Ryan is so fast I could not believe it – he took the time to review with and show me the various steps to repairing the walls which was very informative.
They are all clearly very proud of and engaged in their work – and it shows. 
I would recommend Bathtub King anytime!"
– MaryKay
"Dear Dennis and Team at Bathtub King,
This is a note to thank you, and to tell you that our bathroom renovation project has been very successful. We really appreciate the way all the work was performed at our house.
Ryan and the team worked very hard and very steadily, and there was little disruption at the rest of the house, including the demolition of the old tub enclosure tile. Our new cultured marble enclosure has turned out just as we hoped, and we are very pleased. The tile floor looks very nice, and the bathtub re glaze makes it look like new. The timelines, too, and dates as promised for all this, worked out exactly as specified.
We also appreciate the time taken to show us the options in materials, etc., which we had in the remodel. The displays in your showroom were helpful in this regard. Thank you very much to the team at Bathtub King for all the work in our new bathroom; we much appreciate your hard work in providing us with a great bathroom for our family!"
– Patricia and Tony E.
"Hi Gary,
Just a note to let you know how very pleased we are with our renovated bathroom, (from the worst room in the house to the best!) and to commend your company for its quality staff. Lou, Ron, Jim, Stan, John and Glen to Amen were completely professional and personable – a treat to have in our abode those four days."
– Joan + Raul H.